Here it is. Our song 'The Inner Circle' is available in single tracks for free. Download it here.
A look into the discussion zone of that page is worth it. There's detailed information on gear and setup and you can exchange your mixes and get good feedback on it.
11.07.2016:
Behind the Scenes of 'The Inner Circle':
We've been recording a brand new song for a mixing tutorial of the german c't magazine:
The Inner Circle represents some of the best sounds you can get out of our rehearsal room. We just released a Behind the Scenes video to show you our microphone placements and single tracks so you can mix and master it yourself. Keep tuned in! 
________________________
29.06.2016: Sorrow.
It seems as if we need more people supporting the local music scene. Locations are poorly attended.
One of our favorite locations, DIE GROSSE WELT, just closed their gates permanently. This is the second live club in the span of a week to close up in Hannover.
Please support your local artists and locations. Go to concerts, buy merchandise and discs right off the bands and support them by showing that you appreciate live music.
You'll see us at Kulturfabrik Hildesheim at July 16th.
________________________
23.05.2016: @B58 Braunschweig
And here's a brand new song for you.
________________________
28.03.2016: Live video!
Thank you all for supporting us on our gig on march 19th! Here's something tasty for you.
________________________
22.03.2016: 3 Days after
On Saturday we were in Die Große Welt and rocked the stage with Cersus and Bob Ross Effect. We want to thank you all that you have made this event so unforgettable! You're awesome!

We hope to see you also on 01.04.2016 @ Glocksee in Hanover and on 09.04.2016 @  B58 in Brunswick to create more such unbelievable evenings.
________________________
16.03.2016: Live @ Hanover, Sat 19th!
This is a spontaneous one. If you want to see us live with our favorite dudes from Cersus and a Pop Punk Band with the best band name on earth (Bob Ross Effect) may support us by visiting our gig @ Die Große Welt in Hanover on Saturday 19th.
________________________

09.02.2016: Press Kit
We've finished a full press kit for public relations and booking. You can access it on the bottom of each page of this website and here.
________________________

24.01.2016: Upcoming gig!
We have just been booked for a stoner-event in Brunswick. It'll take place on April 9th.
________________________
23.01.2016: First gig flashback!
Thanks for supporting us on our first gig. We never expected it to be so wonderful. Thank you, this means a lot to us! We're collecting some media to get some performance videos on YouTube. This may take a while, but we're on it.
________________________
22.01.2016: First gig!
Our first gig is today. We can't wait to hit the stage!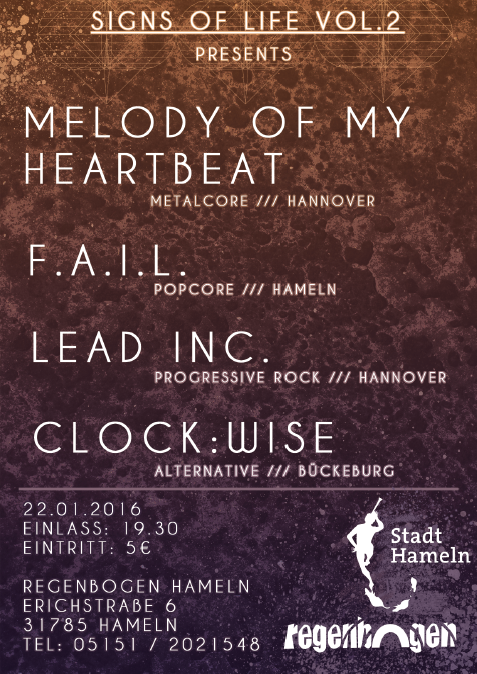 ________________________
19.01.2016: Demo release!
We've just released our four song demo called
Tacoma Narrows:
You can download it for free on bandcamp .